Resolute China sharpens focus on innovation
By : INDICS Operator
Updated : 2022-04-01 09:34:34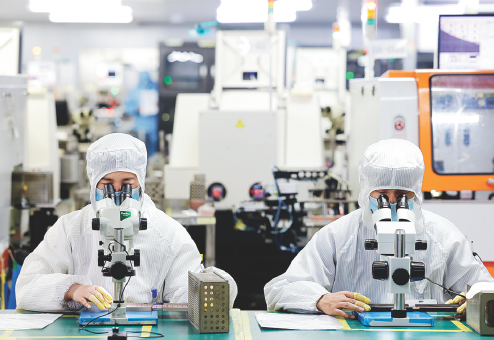 Digital field, R&D spends, core tech, monetary and fiscal policies to underpin growth
As China's two sessions-the annual sittings of the national legislature and the top political advisory body-ended on March 11, they showed the world how in the world's second-largest economy, the intersection of democracy, policymaking and lawmaking contributes to high-quality development, the dream of almost every country these days.
Premier Li Keqiang highlighted the need for China to further implement the innovation-driven development strategy and strengthen the foundation of the real economy at the opening of the fifth session of the 13th National People's Congress earlier this month.
Delivering this year's Government Work Report, Li said China will promote scientific and technological innovation for industrial upgrading, eliminate the bottlenecks in supply chains and realize high-quality development through innovation.
The remarks came at a time when the global economy went into a recession amid the COVID-19 pandemic. Changing geopolitical environment and growing trade protectionism added complexities to the economic development of countries globally.
"To achieve innovation, core technology is a key," said Ni Guangnan, an academician at the Chinese Academy of Engineering.
Ni said that over the past year, China has made new breakthroughs in core technologies, including information technology. Domestic central processing unit chips, operating systems and other basic digital technologies have been put into wide use.
"Although the overall market share (of these domestic basic digital technologies) is small, the absolute number of such products has reached 10 million," he said.
"It fully demonstrated that China, as a super large market, has great advantages in driving innovation. The country's scientific and technological innovation capabilities have also been significantly improved."
For instance, in terms of innovation in semiconductors, the government has intensified efforts to develop chips at home so as to reduce reliance on the foreign semiconductor industry. This generated unprecedented levels of enthusiasm and funneled capital from Chinese entrepreneurs into the domestic semiconductor industry, with even carmakers jumping on the auto chip bandwagon.
According to market consultancy Preqin, China surpassed the United States in terms of semiconductor financing last year. Chinese chipmakers, integrated circuit designers and other semiconductor startups received $8.8 billion in funding last year, more than six times the $1.3 billion invested in comparable US companies.
Ding Wenwu, president of China Integrated Circuit Industry Investment Fund Co Ltd, said although investments in the chip design segment increased over the past decade, more efforts are needed in the fields of chip materials, equipment and manufacturing.
"Chip design has a lower technological threshold and quick investment returns. But chip materials, equipment and manufacturing are the areas where China lags developed countries such as the US," Ding said.
More innovations will spring forth in the near future as during the two sessions, the government said the country will "roll out more policy support to encourage businesses to make innovations and focus on tackling bottleneck technologies".
From:ChinaDaily